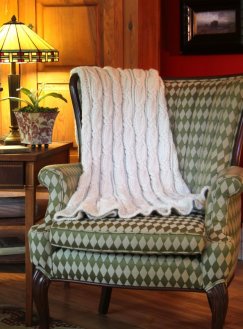 CLICK ON THE COLOR OPTIONS ON THE LEFT OF THE PAGE TO SEE MORE CHOICES!
Celtic Knot Kit knit in Misti Alpaca Chunky - Aquamarine (VR3317).
Pattern included.
Celtic Knots are derived from Irish culture. Love Knots are said to have no beginning and no ending. Symbols of everlasting love and the intertwining of two souls or spirits.
Our beautiful cabled throw is knit in the softest Misti Alpaca Chunky and makes for a charming wedding gift, or knit one for you & your soulmate.